Hand Rejuvenation Treatment Specialist in Las Vegas, NV
Hand rejuvenation treatments offer the ability to defy aging in the hands and offer volume and a more youthful appearance to hands that are bony and aging with fine lines and wrinkles. If you are interested in hand rejuvenation treatments, call Flawless Medspa today! For more information, contact us or schedule an appointment online. Our med spa is located at 9418 W. Lake Mead Blvd Las Vegas, NV 89134.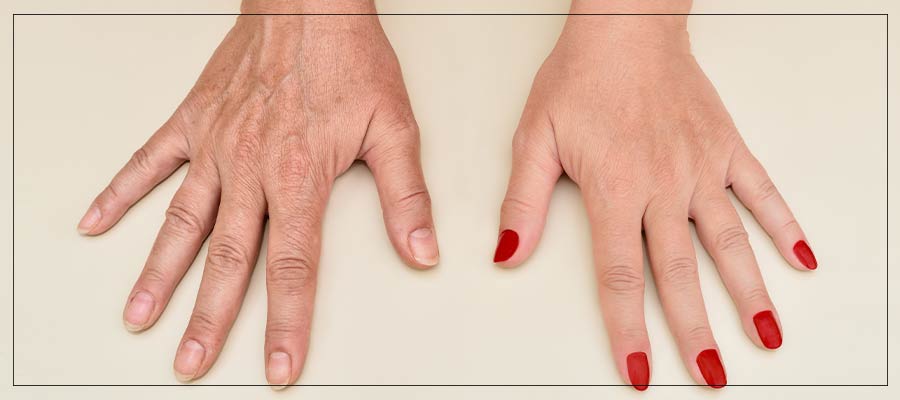 Table of Contents:
What is hand rejuvenation?
How can I rejuvenate my hands?
What is used for hand rejuvenation?
How long does filler last in hands?
What is hand rejuvenation?


Hands are some of the best indicators of a person's age, as over time our hands are frequently exposed to harsh sun, cleaners, and the difficulties of everyday life. Aging in your hands usually manifests as darkened age spots and the loss of volume on the back of the hand, giving it a bonier appearance. Despite the effort of the individual to make the rest of their body including their face look younger, wrinkled and hollow hands can still make a person look older.

Hand rejuvenation helps to restore a more youthful and vibrant appearance to your hands. A common treatment for volume replacement to hollowed-out and bony-appearing hands:

Injectable Fillers:

Injectable fillers have quickly become the most common form of hand rejuvenation. The results are predictable and visible immediately, and the results can last up to 18 months. The injectable is minimally invasive and requires little to no downtime.

How can I rejuvenate my hands?


There are a multitude of natural ways as well as medically advanced ways to help rejuvenate your hands. The natural ways however are not as effective as how Flawless Medspa hand rejuvenation treatments are completed.

At Flawless Medspa, our hand rejuvenation treatments are completed by a medical professional in our clinic, where we inject a filler treatment into the hands to allow them to gain volume and look less wrinkled and the hollowed hands will appear younger.

What is used for hand rejuvenation?


Our hands are the telltale signs of aging, they show even more signs of aging than our facial skin does. However, hand rejuvenation treatments can provide a youthful appearance for the hands using the same skin care procedures designed to originally enhance the face. Filler injections add volume to the hands and allow them to look more youthful for longer periods of time.

Our hands receive a lot of sun exposure, which can end up leading to sun spots, fine wrinkles, change in the skin's texture, and can cause actinic keratosis which is a precancerous patch of scaly skin that forms on sun-damaged skin like your hands. The volume loss becomes a natural part of the aging process, it is also believed that ultraviolet light may also be a contributing factor.

Dermal fillers are the most common type of hand filler for hand rejuvenation treatments, which contain a gel composed of substances that are naturally found in the human body.

There are a few different types of dermal fillers that can be used in our hand rejuvenation treatments and will depend on each individual's specific requirements, as well as our provider's professional preference.

A couple of the options include:

1. Radiesse
This first FDA-approved hand filler is widely popular and used to restore volume to aging hands during a hand rejuvenation treatment. Radiesse is based on calcium, hydroxylapatite, a component that is found in the bones and teeth. In addition, it adds volume. Radiesse can also help conceal veins and tendons thanks to the opacity and color of the injection. This injection filler lasts six months or longer. All of the hand rejuvenation treatments will need upkeep, as they are not permanent treatments.

2. Restylane Lyft
Offers a history as a facial filler, but is not approved by the FDA for the use of hand rejuvenation. Restylane Lyft offers a safe and effective hyaluronic acid treatment for restoring volume to the hands and delivering very natural-looking results. Hyaluronic acid has been believed to increase the thickness and elasticity of the skin, in addition to restoring volume. The effects from this hand rejuvenation filler typically lasts around six months as well.

How long does filler last in the hands?


Both of the hand rejuvenation injections that are offered at Flawless Medspa last around six months or longer, as it depends on how fast the individual's body is able to break down the injections that are added to the hands.

Book your hand rejuvenation treatment today and see the incredible results immediately! We serve patients from Las Vegas NV, Pinto Palomino NV, Winchester NV, Sunrise Manor NV, Paradise NV, and Spring Valley NV.